Hace algunos años atrás escribí un artículo sobre la violación, a partir de una serie de televisión que hizo gráfica esta escena. Para entonces dejé de ver ese show pese a que hay muchas más series que tocan esto como trama. La violencia machista se ha perpetuado a lo largo del tiempo y ha cambiado de forma (desde lo micro a lo macro), siendo los ataques de carácter sexual -que a veces empiezan con el acoso callejero- una forma de dominación cruel.
La violación es un 
acto donde alguien tiene relaciones sexuales contra la voluntad de otra persona usando la fuerza, alcohol, drogas, intimidación, etc. Es abuso de poder y no un deseo sexual ni una enfermedad como muchos quieren creer. Para la Organización de las Naciones Unidas (ONU), es "una penetración física por coacción de la vulva o el ano, con un pene, otras partes del cuerpo o un objeto".
La industria cultural, representa lo que ocurre en la sociedad según su contexto. En el caso de las series de televisión, algunas tocan el tema de la violencia sexual con importancia mientras que otra, no tanto. El canal CW tiene al menos dos series que tienen la violencia sexual como parte de su trama, Veronica Mars lidia con los efectos de su ataque provocado en una fiesta. Y durante su historia, ella entendía bien que no era su culpa por lo que era más que una sobreviviente, y un accesorio a una historia masculina como suelen hacerlo otras series. Veronica después de salir de la escuela comienza a luchar contra los hombres que abusan mujeres.
Reign (CW) cuenta en su segunda temporada la violación de Mary Stuart, la reina de Escocia, por un grupo de protestantes que busca vengarse del asesinato de uno de sus hijos. El plan original era matar al rey Francis pero al no encontrarlo decidieron faltar su honor al violar a la reina. Tras el acto, Mary no era capaz de acercarse a nadie ni tampoco a su marido. Asustada, el único consuelo que encuentra es la solidaridad de su suegra quien sufrió ataques similares cuando joven.


Lo mismo pasó con Sansa Stark, quien fue violada por Ramsay Bolton en la serie Game of Thrones (no así en los libros, quien fue Jeyne Poole) en su noche de bodas mientras Theon Greyjoy fue forzado a ver el acto. Tortura para ambos, donde el enfoque de la cámara es priorizar la reacción del hombre frente a la violencia de una mujer que es cercana. (¿Les suena el Women In Refrigerators?).
La violación en Game of Thrones o en los libros de Canción de Hielo y Fuego son un recurso habitual como el asesinato y la mutilación. Y el caso de Sansa fue agregado a la serie sólo para crear acción en la audiencia y efectos en las acciones de otros personajes como el mismo Theon, Jon Snow, Meñique para hacer avanzar la historia.


Pero Sansa, al igual que Mary Stuart, sobrevivió y consiguió su venganza. ¿Qué iba a hacer tras eso? Exigir justicia o hacerla con sus manos. Mary fue en búsqueda de sus atacantes, y les asesinó. Sansa hizo todo lo que tuvo a su alcance para que Jon Snow ganara la pelea contra Ramsay y así capturarlo, para después dejar que sus perros se lo comieran vivo.
Otra más que se les une es Jessica Jones, personaje de los cómics de Marvel que tuvo su propia serie en Netflix, donde Kilgrave -su enemigo- usa sus poderes para forzarla a tener una relación con él, que tenga relaciones sexuales y que haga todo lo que él quiera. Como ella dice, 'ha violado cada célula de su cuerpo y cada pensamiento en su cabeza', incluso haciendo que mate personas por él. La lucha final fue sacarse a este personaje de encima, enfrentarlo para vencerlo y ser una heroína.
En American Horror Story: Coven, la joven bruja Madison Montgomery fue violada en una fiesta y al salir usó sus poderes telekinéticos para hacer que el auto donde iban sus atacantes chocase matando a todos.
Veronica Mars va más allá. Aparte de vencer a su violador, se encarga de hacer lo mismo con otros hombres que abusaron o intentan hacer lo mismo a otras mujeres. Lo mismo hace Jules en Sweet/Vicious. La serie, que recientemente fue cancelada por MTV, creada por Jennifer Kaytin Robinson, cuenta la historia de Jules Thomas quien fue agredida sexualmente el verano anterior por el novio de su mejor amiga, el chico popular. Destrozada por la experiencia decide tomar justicia por su cuenta ya que el sistema no la ayuda.
Jules entrena y cuando llega de nuevo a clases decide ir por todos los agresores sexuales del campus. En su camino se le cruza Ophelia Mayer, quien se une como su sidekick.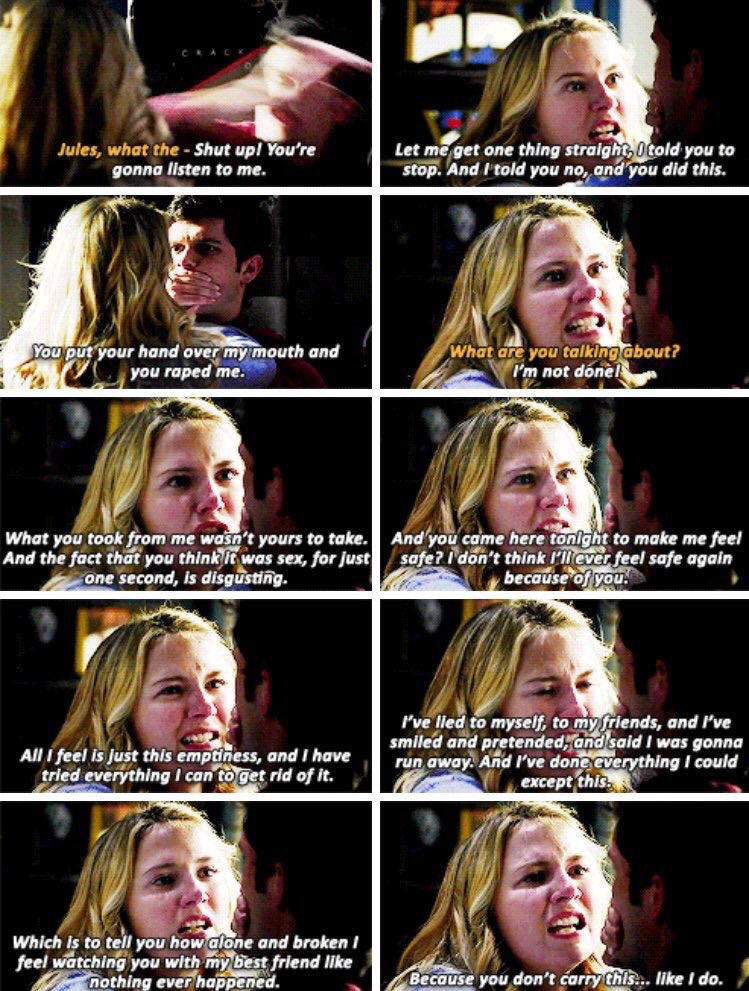 Thirteen Reasons Why también plantea la violencia de género en sus episodios, donde tanto Jessica Davis y la protagonista Hannah Baker fueron violadas por el mismo personaje. Antes de que Hannah se suicidara por culpa de los actos de violencia hacia ella, decidió grabar casettes contando sus razones de suicidio y ahí reveló ambos casos.
La diferencia en 13RW es que ni Hannah ni Jessica recibieron ayuda hasta el final de la temporada. Jessica debe asumir lo que ha pasado y tomar acciones pese a su trauma, mientras que Hannah aguantó tanto que cayó en una depresión que la llevó al suicidio. Muchas mujeres se suicidan después de ser violadas, y muchas no se atreven a hacer denuncias por la cultura de la violación que las cuestiona.
Nuevamente la cultura de la violación parece ganar, y es por eso que el trato de estos temas en algunos show de televisión ayudan. Cuando muestran los efectos que tiene esto sobre las mujeres, el horror, la rabia, hasta la forma de recuperación y la justicia. Todo esto depende del modo en que se represente el tema, más allá de sólo victimizar a las mujeres, como dijo la creadora de Sweet/Vicious a la revista Cosmopolitan:
"Creo que si sólo muestras el trauma, si sólo muestras la violación y lo utilizas como una herramienta narrativa, estás haciendo un flaco favor a aquello que estás tratando".
Mientras que dentro de la ficción este tema debe tratarse con seriedad y no como una arrancada en la historia, fuera de ella se debe entender que NO significa NO. Hay que respetar los espacios que ponen las personas, tener buena comunicación con las parejas sexuales porque lo importante es el consentimiento ya que existe la violación en los matrimonios y en los noviazgos/pololeos. Cuando demuestra desaprobación, disgusto o se aleja es porque no quiere nada, BASTA de insistir. La ropa, los gestos, estar inconsciente, sola o ebria no son excusas para la violencia sexual. Ya no queremos vivir en un mundo donde constantemente se nos enseña a no ser violadxs, en vez de no violar.
No es tan complicado de entender, ¿o si?