Star Wars cumple 40 años y por fin, los productores ejecutivos decidieron saldar la deuda en términos de género con sus personajes. En el marco de la Star Wars Celebration que se hizo en Orlando, Florida se presentó el proyecto Star Wars: Forces of Destiny, una miniserie que se enfocará en mostrar aventuras alternas de las heroínas que han protagonizado la franquicia. Algo similar a Superhero Girls de DC Comics.
Forces of Destiny se emitirá por YouTube y estará conformada por 16 cortos animado enfocados en la senadora Padmé Amidala, la jedi Ahsoka Tano, la guerrera Mandaloria, Sabine Wren (el personaje de color en el universo animado), Hera Syndulla: la piloto Twi'lek, Jyn Erso de Rogue One, la princesa Leia Organa y Rey de The Force Awakens. Sus aventuras estarán dentro del canon tanto de las películas como de las series animadas (The Clone Wars y Star Wars Rebels) e interactuar con otros personajes como Maz Kanata quien narrará los capítulos y Lupita Nyong'o regresa a darle voz. Así como Daisy Ridley le dará voz a Rey, Felicity Jones a Jyn y Ashley Eckstein a Ahsoka y Tiya Sircar a Sabine, Vanessa Marshall a Hera. Mientras que Shelby Young será la voz de Leia y Catherine Taber será Padmé.
Pero no sólo se quedan con esto. A raíz de este nuevo proyecto que incentiva a las niñas a mirar y admirar a estas heroínas, se sacará al mercado dos libros que contarán tres historias de cada protagonista. Además de lanzar una línea de muñecas con otro set de personajes, y diversos vestuarios.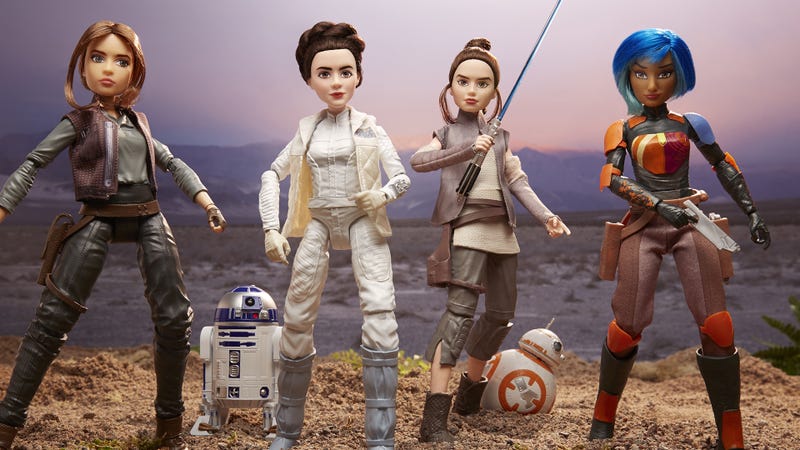 "Desde Princesa Leia a Sabine Wren, las heroínas de Star Wars son únicas, y quisimos representar esto en la línea de productos para Star Wars Forces of Destiny", dijo Jimmy Pitaro, presidente de consumo de Productos Disney. "El resultado es la creación de nuestras nuevas figuras de acción que celebran el poder y las historias de estos increíbles personajes y permite que las niñas y niños recreen sus momentos más heroicos en casa."
Acá dejamos los primeros preparativos de Forces of Destiny.  ¿Están listos para vivir aventuras con nuestras queridas heroínas?