Los personajes de DC Comics están cumpliendo sus añitos de historias, y esta vez le corresponde a una heroína muy importante, pues sin ella no se funda la Liga de la Justicia que conocemos. Dinah, más conocida como Black Canary cumple 70 años de historia.
70 años pateando traseros y soltando su famoso grito sónico (el clásico "Canary Cry") para salvar el mundo. Años de historia donde ha pasado por los cómics de la Liga de la Justicia, a los de Green Arrow como su aliada y compañera, siendo parte de un equipo de heroínas junto a Batgirl y en las series animadas de DC. También en series live-action del canal CW pero ninguna de ellas ha hecho una representación del personaje como corresponde. Es por esto, que me tomo este pequeño espacio para celebrar a una de mis heroínas favoritas.
Al igual que otros héroes de DC, el título de Black Canary es un "manto" que se traspasa entre una persona u otra. En el universo DC (sea la versión que sea) el manto de Black Canary se les atribuye a Dinah Drake, Dinah Lance y Olivia Queen, todas unidas por lazos familiares. Así que para no confundir, empezamos:
Dinah en la Golden Age

Dinah Drake es la Black Canary original creada por Robert Kanigher and Carmine Infantino apareciendo por primera vez en The Flash #86 durante 1947. Dinah era la hija de un policía de Gotham que decidió ingresar a la academia de policía de la ciudad para combatir contra el crimen pero fue rechazada. A ocultas decidió entrenarse sola y convertirse en Black Canary. Fue parte de la Sociedad de la Justicia de América y se enamoró del policía Larry Lance.
La Black Canary de Dinah Drake desapareció por un tiempo, y regresó durante los años 60 donde transitaba entre Tierra 1 y Tierra-2 junto a otros miembros de la Sociedad de la Justicia.
Dinah Lance: Nuestra querida "Pretty Bird" 

Dinah Drake y Larry Lance tuvieron una hija: Dinah Laurel Lance, la Black Canary definitiva nacida en la era de plata. Dinah Lance fue creada por Dennis O'Neil y Dick Dillin, y apareció por primera vez en un cómic en 1969.
Dinah quiso convertirse en heroína a los diecinueve años pese a las negaciones de sus padres. Sin embargo, consiguió entrenar con un viejo amigo de su madre y por fin pudo tomar su manto. Dinah es una experta luchadora en artes marciales, pero lo que la caracteriza es su grito, el famoso "Canary Cry" que genera fuertes daños incluso a Superman y sus pobres oídos kriptonianos durante Injustice.
Los orígenes del "Canary Cry" de Dinah se debe a que ella posee un metagen, lo que la hacen una metahumana evidentemente. Dinah, al ser Black Canary se convirtió en una de las miembros fundadoras de la Liga de la Justicia pues ella decidió colocarle el nombre "Liga" para diferenciar de la agrupación de  héroes en la que había pertenecido su madre.
Trabajando con la Liga de la Justicia conoció a Oliver Queen conocido como Green Arrow. Ambos se convirtieron en amigos y luego en una de las parejas más icónicas de los cómics de DC.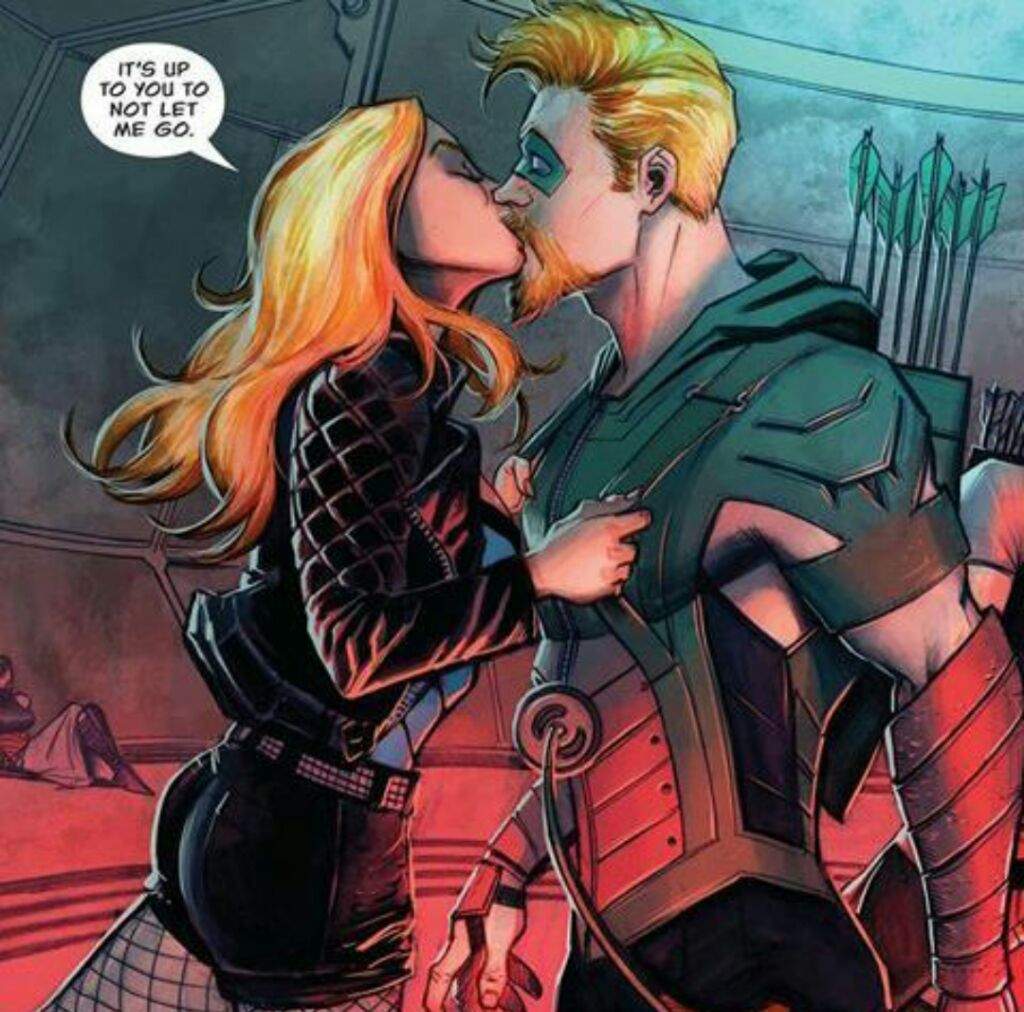 Dinah al estar con Oliver, también forma parte de su familia o lo que los fans conocemos como Arrow Family (no confundir con la serie). También ha cumplido un rol protector de los sidekicks de Oliver como Roy Harper (Arsenal), Mia Deardeen (Speedy), Connor Hawke, Emiko Queen, la media hermana de Oliver y Sin Lance, una niña vietnamita adoptaba por Dinah y que iba ser entrenada para convertirse en la próxima Lady Shiva.


Dinah es parte de un equipo de heroínas en DC las Birds of Prey, junto a Barbara Gordon quién la contactó como Oráculo. En los primeros cómics -escritos por Chuck Dixon- sólo aparecían ellas dos para después recibir la llegada de Helena Bertinelli/Huntress y Zinda Blake/Lady Blackhawk de la mano de la guionista Gail Simone, para después llegar Big Barda y entre otras.
La heredera de Dinah: Olivia Queen

Nadie más ha usado el manto de Black Canary después de Dinah Lance excepto su hija con Oliver Queen/Green Arrow: Olivia Queen Lance, quien aparece en las historias de Convergence y Kingdom Come como parte de la Tierra 22. Olivia es experta en combate cuerpo a cuerpo, es acróbata y posee la habilidad en la arquería tal como su padre. Olivia no es la única hija que Dinah y Oliver han tenido en los cómics, en la trama de Injustice son padres de Connor Lance Queen quien no pasa de los cinco años.
Son muchos años de historia, y sus fans esperamos con ansias verla en el universo de las películas de DC al lado de la Justice League, ojalá con las Birds of Prey y teniendo al arquero de verde como compañero.
Porque ya después de 70 años, queremos a la rubia con mallas de cuadritos para que venga a salvarnos a gritos.
¡Felices 70 años, Black Canary!